Exhibitions
Colour Revolution – Victorian Art, Fashion & Design
Open until 18 Feb 2024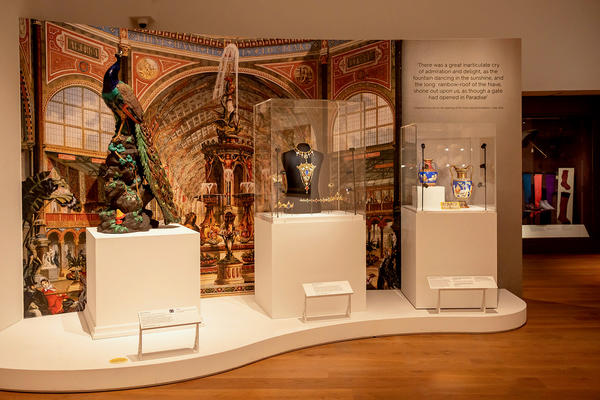 During Britain's industrial revolution, the Victorians experienced a surge in scientific advancements that enabled them to explore a wide range of colors in innovative ways. These new hues were met with a mix of excitement and suspicion. Artists, designers, and individuals from various walks of life in the 19th century enthusiastically embraced this vibrant and diverse palette.
The exhibition aims to showcase an assortment of fashion items, ranging from Queen Victoria's somber mourning dress to the most boldly colorful clothing and accessories. It will also feature works by renowned artists such as Ruskin, Rossetti, Turner, and Whistler. In addition, visitors will have the opportunity to observe objects from different parts of the world and some of the earliest color "photograms." Ultimately, this exhibition highlights how color has significantly shaped our art and culture throughout history.
Monthly Events
Toddler Time
Toddler Time happens once every month. Here are the specific dates:
Only at the Museum,
Designed for parents and caregivers with toddlers (older children are also welcome),
Subscriptions are available for 3-month, 6-month, and 9-month periods, with each session lasting for one hour.
You can select either a Tuesday or a Saturday each month, and the available times are:
10:30-11:30 am (only on Tuesdays)
2:30-3:30 pm

Please note that Saturday mornings are completely booked. However, you can still reserve a spot for Saturday afternoon, Tuesday morning, or Tuesday afternoon.
Booking is necessary – refer to the details below for information on how to book.
Here's how it works
As part of our new Toddler Time offering, families can participate in monthly sessions that provide social and educational activities. These sessions are available through a subscription package.
What do these monthly sessions include?
A friendly welcome
Singing and rhyming time
Storytelling
Exploring the exhibits and collections at the Ashmolean Museum
An opportunity to have conversations with other parents and caregivers
Fun play activities that support children's learning
Furthermore, subscribers receive regular emails with information about the upcoming month's Toddler Time activities.
It's worth noting that each of the above activities is offered in the morning and afternoon, and subscribers can choose their preferred session.
These sessions are specifically designed to help toddlers build their vocabulary. They follow the Parents Early Education Partnership (PEEP) approach and are developed in collaboration with Oxford University's Baby Lab.
Useful information
The location varies for each event and is within the galleries. Please check the details in advance. Buggies or pushchairs are welcome in the Museum, and we can store them if needed. Lifts are available between galleries.
Schedule of Monthly Toddler Activities
There is one Toddler Time event each month, and you can choose either a Tuesday or Saturday session. Subscribers can select one of the two sessions that take place on the chosen day.
Please note that Saturday mornings are fully booked. However, you can still make a reservation for Saturday afternoon, Tuesday morning, or Tuesday afternoon.
Restaurants and Café
The café is open from 10am to 5pm every day, with last orders taken at 4.30pm. The restaurant is also open daily from 11.30am to 5pm, serving Lunch and Afternoon Tea. Last orders for the restaurant are accepted at 4.30pm.

At our Rooftop Restaurant and Terrace, you can relish a delightful Lunch or treat yourself to a lavish Afternoon Tea while enjoying the magnificent views. Alternatively, you can visit our café for food and beverages to enjoy on-site or take away.